UPDATED
June 13– 17, 2017
2017-2018 Youth Conservatory Auditions
Ages 10–17
 Looking for motivated, dedicated and creative individuals interested in comprehensive,  year- long theatre training in a professional setting.
What makes the Laguna Playhouse Conservatory Program Unique?
Study with Professionals On-stage and off.
Work and play hard while building a strong community of ensemble artists.
Participate in Productions
Push the boundaries of your comfort zones in a nurturing artistic
Become more effective communicators and citizens.
Experience remarkable growth artistically and personally.
Conservatory & Repertory 
For students interested in making the Laguna Playhouse Youth Theatre their primary training and performance
experience for the year.
Acting & Improvisation
Movement, Voice, Diction
Scene Study
Theatre History
Play Analysis
Technical Theater
Audition Techniques
Extra workshops
Although divided by age, each student is placed in the class we believe best suits their potential. Classes meet weekly Sept – June at the Playhouse.
Conservatory 1 Ages 10-12. 4 – 6 pm Mondays
Conservatory 2 Ages 12-14. 4 – 6 pm Tuesdays
Repertory 1 Ages 14-16. 4 – 6 pm Wednesdays
Repertory 2 Ages 15-18. 4 – 6 pm Thursdays
Members of the Conservatory & Repertory are required to audition for Youth Theater productions, and, if not cast, work on each production in a technical and/or support capacity.
Audition Dates
UPDATED LOCATION - Tues., Jun 13, 6:30pm – 8:30pm at Boys & Girls Club, Laguna Beach 
Sat. Jun 17, 10:00am-2:00pm at Boys & Girls Club, Laguna Beach

Interviews by Invitation
Half hour interviews with prospective students and parents/guardians.

Tuesday, June 20
6:30 – 9:00pm
Laguna Playhouse
What to Do
Prepare 2 Memorized Monologues
1½ minute comic
1½ minute dramatic
Age appropriate material only
Bring a photo and resume

Audition by Appointment Only 
Call Wally Ziegler 949-497-2787x 294
Please call May 15 or later.

Tuition
$1400 plus Parent Volunteer Hours
Ask about Scholarships 
2017-18 Youth Theatre Season 
(Ages 5 & up)

The Laguna Playhouse Youth Theatre offers a 4 play season. 1 play, 1 musical for family audiences, our Annual Murder Mystery Fundraiser and our TNG* play designed for teens, parents, and educators that addresses contemporary or historical issues.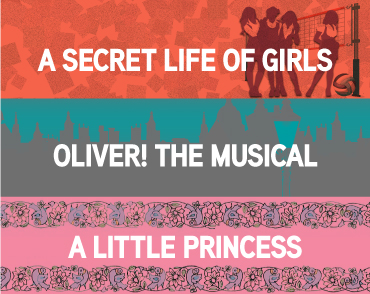 The Secret Life of Girls *
September 21-23, 2017 
Oliver! The Musical 
November 11-19, 2017
Murder Mystery Fund Raiser
February 16, 2018
A Little Princess
May 5-13, 2018

*Theatre for a New Generation plays are designed for teens, pre-teens, parents, and educators. Content addresses contemporary or historical issues.
For more information about our classes, please visit Education and Classes.